WELCOME TO REVAS SPA
Indulge yourself at Revas Spa where we offer a complete suite of relaxation and personal care packages
December Rasul Special Christmas Berries
January Rasul Special Ylang Ylang & Lime
A Rasul is a chamber where a traditional Arabic body treatment involving steam and mud takes place. Using mud of various colours, ingredients and minerals, you sit in a tiled steam room for approximately 50 minutes. The steam opens your pores and allows the detoxifying and healing properties of the mud to penetrate the skin. Afterwards, the star studded ceiling expels a tropical rain to gently add moisture to the mud to soak into the skin to reap the full benefits. Relax and unwind after with a choice of cocktail and 80 mins thermal spa experience. Please note this treatment is not suitable for expecting mothers and some medical conditions for more info contact [email protected]
Super-active renewing treatment is a deep cleansing facial using a glycolic peel which works on a cellular level of the skin. It helps to improve the look of dull uneven skin tone. Suitable for all skin types this facial helps to diminish the look of fine lines and wrinkles making the skin feel hydrated and firmer. Please be advised this Facial is not suitable for expectant mothers or anyone suffering with hypersensitive/hormonal skin
January Focus | Essence of Fiji
Pamper yourself with the ultimate Pure Fiji treatment! Begin your journey to relaxation with a luxurious full-body sugar cane scrub, leaving your skin feeling soft and rejuvenated. Then, drift away as exotic oils are gently effleuraged into your skin, providing deep hydration and a blissful sensory experience. Next, envelop yourself in a hydrating body cocoon, cocooning your body in moisture and comfort. Feel the tension melt away as you indulge in an exotic oil head and shoulder massage, soothing away stress and tension. Finally, bask in the glow of a brightening facial treatment, leaving your complexion radiant and refreshed. This holistic experience is a true escape to paradise for your body and soul.
Revas Spa & Hair Studio Voucher
Give the gift of relaxation thiswith a Revas Spa and Hair Studio Gift Card.Why not buy an E-Voucher for an instant download.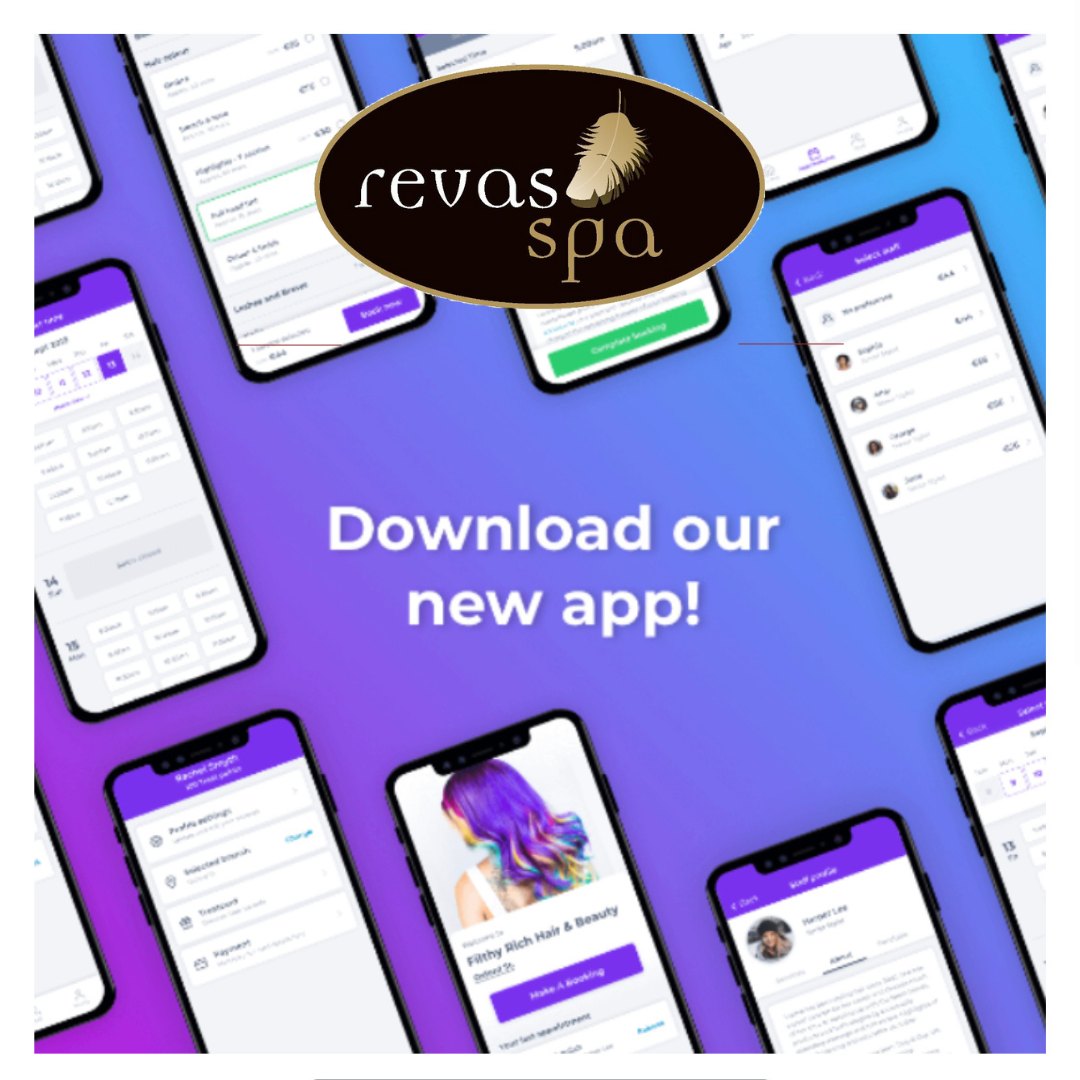 Our New App
Revas Spa & Hair Studio App now available for iOS & Android.With your Revas Spa app you can: Make a booking with us from your phone 24/7. View live appointment time availability Get early access to exclusive offers Contact us and find us easily.
Get your Spa Packages
Treat yourself or a loved one to one of our amazing Spa Packages.