A passion for the ocean and fascination with the healing power of seaweed has inspired a
Tauranga accountant to introduce a new luxury range of organic skin care and spa beauty treatments to New Zealand
Growing up, Karen Hind remembers the ocean and its bounty being a cure-all.
From cuts and scrapes to teenage acne, its salty goodness was a natural healer, while swimming in its depths soothed her soul.
"It's always been my go-to," says Karen, who spent her teenage years windsurfing and sailing at Pilot Bay and now lives a stone's throw away from the beach at Omokoroa.
"I can remember holidays with my grandmother and walks along the beach gathering seaweed to put on her vege garden – and she produced some of the best veges around," she adds.
Karen's belief in the healing power of the natural world was reinforced while working at a health shop during her teens, where she became conscious of not only what she was putting into her body, but also what she was putting onto her skin.
"Chemicals are a no-no, always have been," she says.
Now, several careers later, Karen's love of the ocean and penchant for organics have brought her full circle, as she introduces a new luxury skincare brand to New Zealand.
VOYA is a range of certified organic, seaweed-based skincare and spa treatment products, made with seaweed that is hand-harvested under special licence from the wild Atlantic coast of Ireland.
Used by some of the world's top spas and hotels, including the Burj Al-Arab, Ritz-Carlton, Waldorf Astoria and Mandarin Oriental, VOYA is also the skincare product on Emirates 1st and Business Class.
VOYA's story began in Ireland, with a 300-year-old tradition of seaweed bathing, to relax and relieve pain.
The first public seaweed baths were opened in Strandhill, Co. Sligo in 1912, but were later destroyed, in 1965, by Hurricane Debbie.
Lost for decades, the Walton family reopened them in 2000 and, as the popularity of the baths grew, more and more people started asking how they could replicate the experience at home.
The Waltons knew chemicals in conventional cosmetics could destroy the beneficial properties of seaweed and damage the environment, which went against their values, so they set about developing the first genuinely organic seaweed-based cosmetic products in the world.
There are no laws to guarantee that health and beauty care products labelled as organic are indeed organic, so VOYA sought certification from the UK Soil Association and the Irish Organic Farmers and Growers Association to enforce the integrity of its products.
One of VOYA's signature products is its Lazy Days seaweed wellbeing bath – a 'take-away' pack of dehydrated seaweed and sea salt that can be used to create a spa experience at home.
Karen discovered VOYA while flicking though a travel magazine.
As someone with a minimalist beauty regime, it was initially the word 'seaweed' that caught her eye.
Working alongside AgriSea New Zealand Seaweed Ltd, she was aware of the benefits of seaweed in horticultural and agricultural applications, and seaweed on animal nutrition and health and wanted to learn more.
"VOYA had the 'wow' factor for me that other products don't have. Seaweed is the most powerful antioxidant in the plant world, and has some amazing qualities. It contains high concentrations of vitamins and minerals and is known for its anti-inflammatory, anti-ageing and therapeutic properties," explains Karen.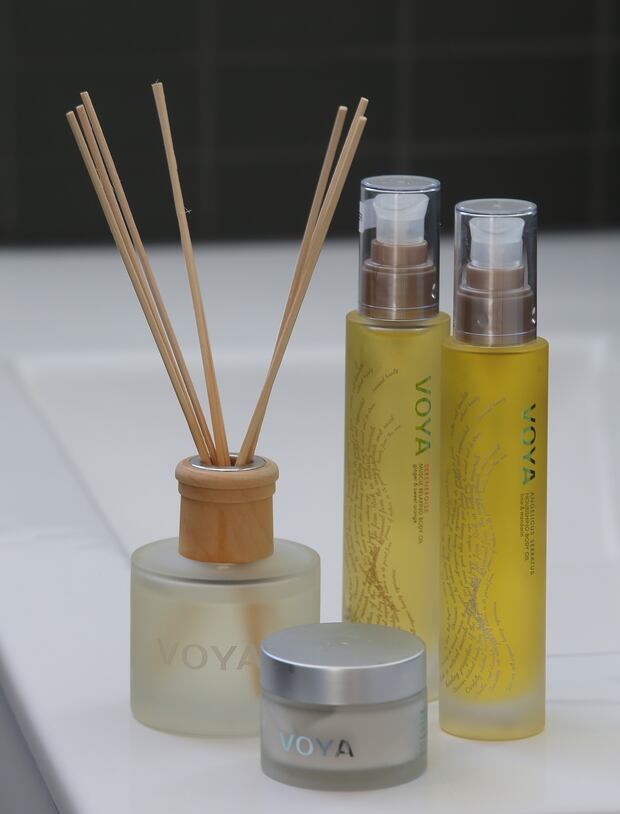 "The fact that VOYA is also certified organic and doesn't contain any 'nasties' like parabens, sulphates, dioxins or petrochemicals, made it an instant winner for me."
When Karen discovered that VOYA, which is distributed through 37 countries, was keen to branch out into New Zealand and Australia, she was quick to put up her hand.
"I love a challenge. I'm definitely a 'seven-year' girl! Every seven years I need a new challenge. I need life goals, or I stagnate.
"As women, it's really important that we have life goals, otherwise we can easily slip into being second best behind other people."
Karen has enjoyed a varied career, having studied education and psychology at the University of Otago before going on her 'OE' which saw her work as a travel agent in London and travel extensively throughout Europe and the UK.
Back in New Zealand, Karen and her husband Geoff had a furniture making business. Wanting to learn more about running a business inspired her to study accounting and business management while raising their sons, Sam and Kane.
The family moved back to the UK in 2006, where Karen managed a large fishing and outdoor equipment company in Cardiff, returning to New Zealand after four years to set up her own accounting business, working from home.
If you had told her that her next career shift would be into beauty products, she would never have believed it.
"I was struck by the quality of the product and it really resonated with my passion for the sea and chemical-free living," says Karen.
"On a personal note, it's the first time in my life that I've found a skincare product that really works for me, and I'm excited to share this with other women, so they can reap the benefits of seaweed too."
To learn more about the wide range of Voya products click here or check out the full range of VOYA body treatments at Revas Spa here now.